GK Dragonomics provides in-depth research on the economic, political and social developments driving the world's fastest growing major economy, China. The firm was established in Beijing in 2002 by Joe Studwell and Arthur Kroeber, and became part of the Gavekal group in 2007. Our Beijing-based team of seven analysts combines rigorous data analysis with on-the-ground reportage to produce unique insights for institutional investors, multinational corporate strategists, and governments.

Subscribers to GK Dragonomics research receive the following publications:
China Economic Quarterly, a 60-page magazine that draws on our own research and contributions from leading industry and academic experts to produce the world's most authoritative analysis of the Chinese economy.
DragonWeek, a concise weekly take on China's most important economic and market news, published each Monday.
Occasional research notes (one or two each week) providing in-depth investigation of current topics.
Detailed chartbooks including a quarterly presentation on macroeconomic developments, and annual presentations on China's trade, energy and property sectors.
Occasional specialized reports commissioned exclusively for GK Dragonomics readers from other leading China research boutiques. Third-party providers include Fathom China (deep-dive reports on Chinese companies), RedTech Advisors (sector reports on technology), and the Research Center on Chinese Politics and Business (analysis of China's economic and industrial policies).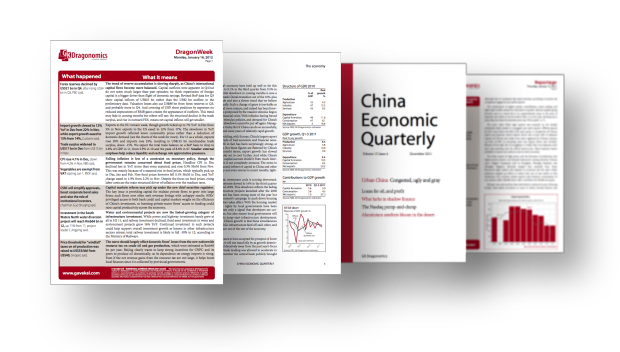 GK Dragonomics analysts participate regularly in Gavekal Investment Seminars in New York, London and Hong Kong. Subscribers to our Advisory Service enjoy regular access to partners and analysts via conference calls and face-to-face meetings.
To access GK Dragonomics research, click here, or see the articles marked [China] on the Gavekal Research site.
To register for a free trial, please click here.